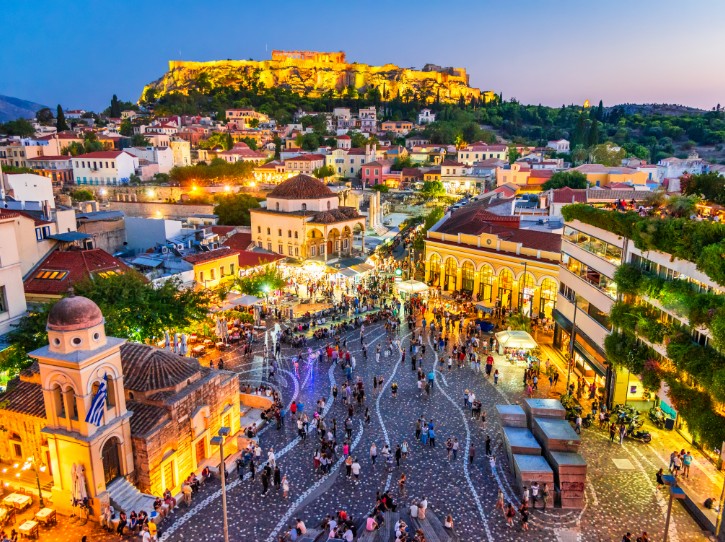 Athens is known for its works of art, monuments and history, but it is also famous all over the world for its nightlife. This is also one of its most attractive aspects. Here the real life begins when the rest of the world has gone to sleep. It's a city that never sleeps! Greeks like to go out at night and often party until dawn! So in the Capital you will see busy streets throughout the night and you will find restaurants and taverns open at least until 02:00 am and bars and discos open until dawn. Also big clubs with live music by famous Greek singers and musicians.
So let yourself go to the rhythm of the city and live unique experiences of fun and entertainment. In the heart of the city, right below Syntagma Square, in a maze of big and narrow streets you will find some of the most popular places to drink your beer, cocktails or whatever.
Descending towards Monastiraki you will enjoy the magical atmosphere of modern life between the archaeological sites and under the illuminated Acropolis and you will discover a multitude of restaurants, taverns and bars as well as unique idyllic terraces where you can enjoy your cocktails accompanied by unique music and a unique view of the Acropolis.
For a more romantic evening, you can look for your destination in the beautiful Plaka, where you will often see people sitting, drinking and chatting at tables spread out in small pedestrian areas in a relaxed and comfortable mood, and all this of course under the imposing glow of the Parthenon.
In the area of Psirri you will reach the definition of urban nightlife where you will find street art, many workshops and designer studios, traditional and modern cafes, sweet shops, plenty of bars for all musical tastes, taverns with live music and all this in a harmonious coexistence.
Moving a little further down you will find the famous Gazi, where in addition to the Technopolis Multipurpose Hall you will find, among other things, a multitude of night clubs for all tastes and preferences. And Kerameikos with its live music scenes and quirky bars.
There are many more places to have fun and countless options to suit all tastes. All you have to do is come and indulge in this relaxed mood of carelessness and revelry and enjoy your night walks like a true Athenian.