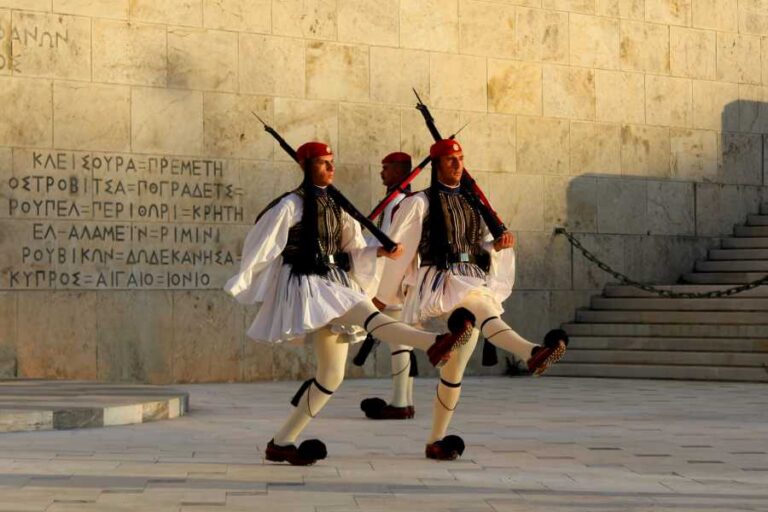 The slightly sloping Syntagma Square (Plateia Syntagmatos = Constitution Square) is located in the heart of modern Athens. It is the central square of Athens and it was named after the Constitution that the first King of Greece Otto was obliged to grant, after a popular and military uprising on 3 September 1843.
The eastern side of the square is higher than the western and dominated by a set of marble steps leading to Amalia's Avenue; beneath these steps lies the Syntagma metro station. Between the green areas planted with shade trees, in the center of the square, there is a large mid-19th century water fountain.
This attractive square is one of the most important places in Athens. It's next to the Parliament, close to the most distinguished hotels and is a meeting point for the locals. There are many cafes, restaurants and luxury hotels around.
Above the Syntagma Square, in front of the Greek Parliament, is the location of the Unknown Soldier Tomb where the changing of the guard takes place. The changing of the guards is a must see for sure. You will admire the soldier's iron will, discipline, attitude and their costumes that are impressive.
The city of Athens has more than 4000 years of history so walk it, among the locals, to discover in addition to its beautiful monuments and buildings and some of its mysteries, myths and secrets that you will not find in your travel guide.
Wander in the National Garden with the building of Zappeion, admire the Athenian trilogy and reach the vibrant Monastiraki square and the neighborhood of Psyrri where, among others, you will find numerous café and restaurants to relax, rest and get strength to continue your wanderings with more appetite.
Book Tour: Neoclassical Heart of Athens Private Guided Tour